R-Trac H.V.H.Z. (Pressure Equalized / High Pressure)
R-Trac H.V.H.Z (High Velocity Hurricane Zone), a pressure equalized rainscreen assembly, is the only system in America to meet new continuous insulation requirements, (energy) combined with meeting all the new building code requirements, (fire and wind) for all coastal & interior regions .

Carries Florida Building Code Approval # FL16406
Meets TAS 201, 202 and 203 up to 200 MPH (ASTM E1886 & E1996)
AAMA 508 & AAMA 509 tested and approved
Meets NFPA 285 requirements
No thermal bridging. Supplemental Z or sub girts not needed
Air & Water barrier assembly
Provides continuous insulation for optimal energy-efficiency
Savings through fewer materials and less labor than traditional ACM/MCM wall systems
Engineered to maximize performance
R-Trac is a completely integrated & tested wall assembly.

To see 18 gauge studs crumpling under negative pressure during R-Trac system testing click here.
To see large missile impact testing of the R-Trac system click here.
To download CSI 3-part architectural specifications in either Docx, DOC, RTF, WP or TXT formats click here.
To download Rmax ECOMAXci/R-trac installation instructions click here.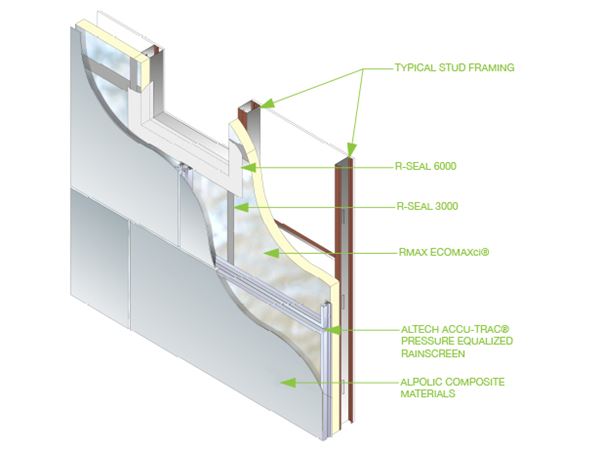 Altech Panel Systems R-Trac H.V.H.Z. System
Downloadable Files